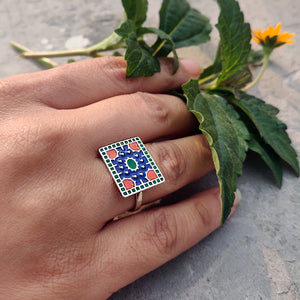 Aangan ring
Regular price Rs. 1,900.00 Rs. 1,520.00 Sale
Angan (courtyard) is the common central space in traditional Indian houses that acts as a place to meet, play and interact with family or to sometimes daydream alone . They carry memories of sunlit days amidst the greenery of gardens planted by our elders. Spaces like these are priceless both in our environment and within us for they nourish our soul.
This ring is a vivid, colourful representation of this space and its memories that we all carry.
Material:
92.5% silver, enamel
Dimensions:
width: 1.8  cms approx
length: 1.5 cms approx
Delivery:
The product will be delivered in 10 working days.
To request faster delivery, please get in touch with us at connect@flyingfishaccessories.com before placing the order.
Care:
Silver tarnishes with time. To preserve the finish of the product, store it in plastic pouches that are included in the packaging.
All our products are handmade and there could be slight variations in the form, size or finish of the product. This is the very mark of the human touch in our jewelry and the imperfections are not to be deemed as a defect.